Wij kijken verder dan skills
Detachering, headhunting, rekrutering, … dat horen wij niet graag. Solid draait in de eerste plaats om mensen. Ja, kennis en skills zijn belangrijk, maar wat nog veel belangrijker is, is de persoon achter de consultant. Daarom zijn we vooral geïnteresseerd in jouw passie voor je vak, je ambities, je plannen… je missie! Vertel ons wie je bent en wat je wil. Dan helpen wij je graag om verder te groeien, persoonlijk en professioneel. We geven je de juiste omkadering, zorgen ervoor dat je in de juiste projecten en teams terechtkomt en we volgen je van dichtbij op. Heb jij zin om je talenten te ontwikkelen in een team waarin je elke dag een impact kunt maken? #lifegoals
Een warm team
Wij houden van duidelijkheid. Jij ook? Top! Wij houden de lijntjes graag kort en krachtig. Daarom kiezen we voor een persoonlijke en menselijke aanpak. We luisteren graag en helpen waar we kunnen zodat jij je 100% thuis voelt en je optimaal kunt blijven ontwikkelen.
Onze focus
Voor ons is het simpel. Mensen staan bij Solid Talent gelijk aan talent. We houden niet alleen rekening met wat jij vandaag kan, maar vooral ook wat je morgen wil kunnen. We geven je alle kansen om je talenten te blijven ontwikkelen.
Hoe werken we?
De tijd waarin consultants zonder enige vorm van begeleiding of ondersteuning op een nieuw project werden ingezet, zijn voorbij. Dat hebben wij trouwens nooit gedaan, en dat zullen we ook nooit doen. Wij brengen je pas in contact met potentiële opdrachtgevers en projecten als we een wederzijdse meerwaarde zien. Werkt wel prettig zo!
Belang van het team
Solid Talent is een familiaal bedrijf. We zijn een hecht team. We luisteren naar elkaar en we geven om elkaar. Niets is onbespreekbaar en we stellen ons altijd flexibel op zodat we elkaar optimaal kunnen helpen.
Blogbericht teambuilding​
De perfecte job beloven kan iedereen, de perfecte job voor je vinden en ervoor zorgen dat je ook in de toekomst kunt blijven groeien, dat doen wij!
Consultants aan het woord
Komend Hemelvaartweekend is het weer zover: de 1000 km van KOTK 2022. Wij vroegen onze renners naar hun beweegredenen en voorbereidingen.
Lees verder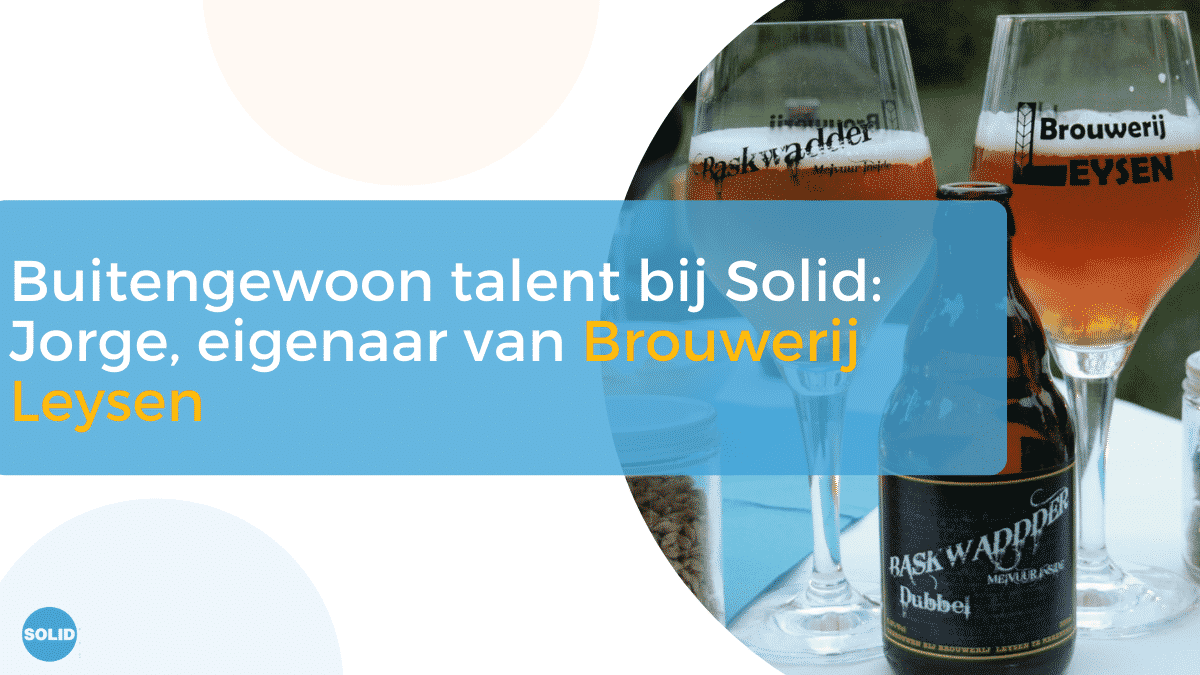 Naast consultant is collega Jorge ook gepassioneerd hobbybrouwer bij Brouwerij Leysen in Herentals. Meer weten? Hier lees je zijn verhaal.
Lees verder
Op 28 april was Solid Talent aanwezig op de Veiligheidsdag van Arcelor Mittal. Daar testten we de veiligheidskennis van de werknemers. Hoe? Dat lees je hier.
Lees verder
Cindy, Technisch Consultant VEI-SAP
"Solid Talent heeft me de kansen gegeven om verder te groeien in mijn carrière en daar ben ik heel dankbaar voor."
Frank Marcelo, Inspectiecoördinator
"Solid Talent is een bedrijf met een hart voor alle medewerkers. De deur staat altijd open voor vragen of suggesties en dat is lang niet overal zo."
Frederik, General Services Supervisor
"Alle Solid collega's hier op de site lijken echt op hun plaats te zitten. Ik ben er dan ook zeker van dat we daardoor een echte meerwaarde kunnen bieden voor het bedrijf waarvoor we werken."
Wil jij werken voor een bedrijf dat veel verder kijkt dan je cv? Een werkgever die ook tussen de lijntjes leest en naar jouw verhaal luistert? Ben je op zoek naar een job waar je je talenten volop kan inzetten en ontwikkelen? Bekijk dan zeker onze vacatures. Er zit vast iets tussen voor jou.