Definitely something for you!
Secondment, headhunting, recruitment… that's not how we think. First and foremost, Solid revolves around people. Yes, knowledge and skills matter, but the person behind the consultant is much more important. So what we are most interested in is your enthusiasm for your profession, your ambitions, your plans. In short, your mission! Tell us who you are and what you want. Then we'll be happy to help you to grow further, personally and professionally. We give you the right framework, make sure you are put on the right projects and in the right teams, and we monitor you from close at hand. Would you like to develop your talents in a team where you can make an impact every day? #lifegoals
A friendly team
We like clarity. so do you? Great! We like to keep the lines of communication short and to the point. That's why we've opted for a personal and human approach. We like to listen and help where we can, so that you feel completely at home and can continue to develop in the best possible way.
Our focus
For us it's simple. At Solid Talent, people equal talent. We don't just look at what you can do today, we look at what you want to be able to do tomorrow. We give you every opportunity to continue to develop your talents.
What is our approach?
The time when consultants were put to work on a new project without any form of guidance or support is well and truly over. In fact we've never done that, and we never will. We only bring you into contact with potential customers and projects if we can see a mutual added value. Works like a charm!
Importance of the team
Solid Talent is a family company. We are a close team. We listen to each other and we care about each other. Nothing is off limits, and we stay flexible so that we can help each other as much as possible.
Blogbericht teambuilding​
Are you looking for the perfect job?
Anyone can promise the perfect job. It's quite another matter to find you the perfect job and make sure that you continue to develop in the future. But that is exactly what we do!
Consultants have their say
Komend Hemelvaartweekend is het weer zover: de 1000 km van KOTK 2022. Wij vroegen onze renners naar hun beweegredenen en voorbereidingen.
Lees verder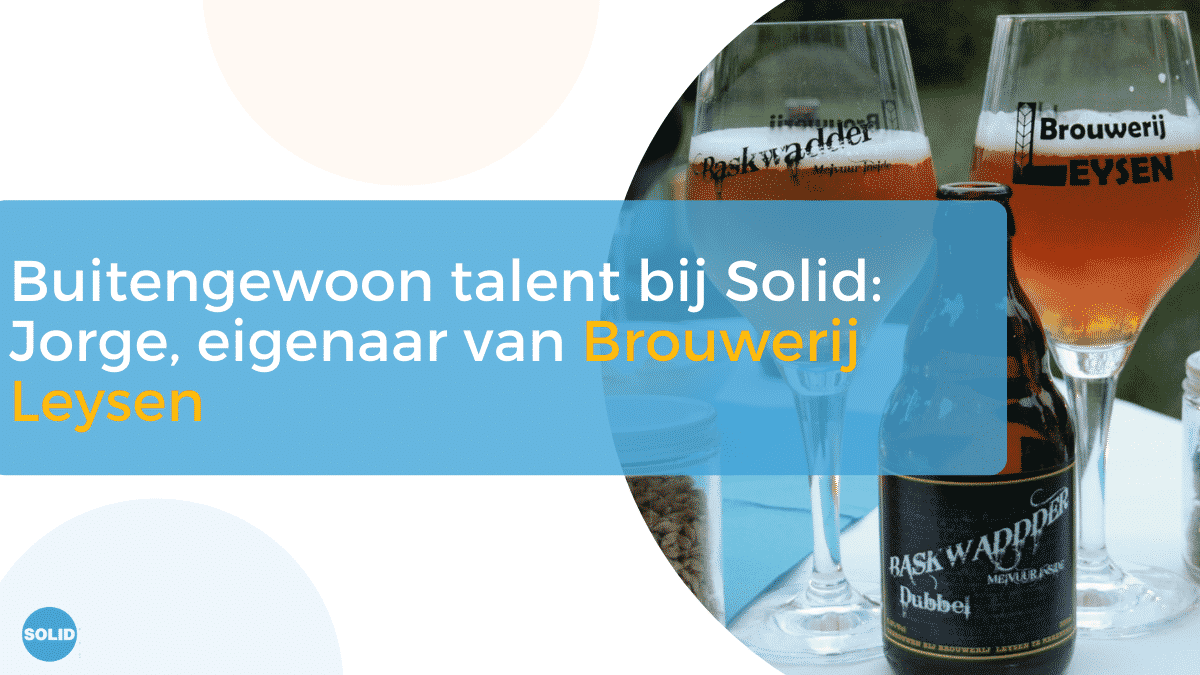 Naast consultant is collega Jorge ook gepassioneerd hobbybrouwer bij Brouwerij Leysen in Herentals. Meer weten? Hier lees je zijn verhaal.
Lees verder
Op 28 april was Solid Talent aanwezig op de Veiligheidsdag van Arcelor Mittal. Daar testten we de veiligheidskennis van de werknemers. Hoe? Dat lees je hier.
Lees verder
Cindy, Technical Consultant VEI-SAP
"Solid Talent gave me the opportunities to develop in my career and I'm very grateful."
Frank Marcelo, Inspection coordinator
"Solid Talent is a company that takes care of all its staff. The door is always open for any questions or suggestions, and that's not the case everywhere."
Frederik, General Services Supervisor
"All the Solid colleagues here on the site really seem to be where they belong. I am sure that's how we can offer real added value to the company we're working for."
Would you like to work for a company that looks far beyond your CV? An employer who can read between the lines and listens to your story? Are you looking for a job where you can apply and develop your talents to the full? Then take a look at our vacancies. There's bound to be something for you.